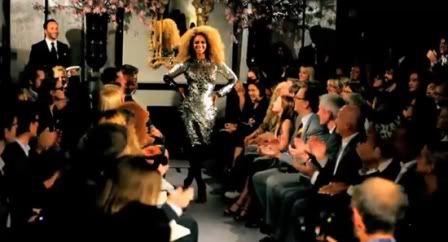 It was a huge event in 2010's fashion calender, but to the dismay of many fashion fans, it was kept private.
Tom Ford chose to show his spring/summer 2011 collection to a select group of professionals in a secret New York location, with not a photographer in site. Except for those approved by the former Gucci director of course. Only now have those images been released, along with a super sleek and exciting three minutes of video footage from the show, which took place four months ago.
The range is Ford's first women's ready-to-wear range for six years, and is glamorous yet bohemian, taking major influence from 1960's and 70's fashion. The extravagant show featured gorgeous guest models such as Beyonce, Julianne Moore and Daphne Guinness, alongside supermodels Karlie Kloss and Freja Beha.
Even more star-studded was the audience, which counted US Vogue editor Anna Wintour and creative director Grace Coddington amongst its front row. The unconventional show featured Tom talking his guests through each look, who were so close they could reach out and touch the garments – and yes, some of them did! The footage was released on new years day and you can see it for yourself here.